MATHILDE & THOMAS' RECIPES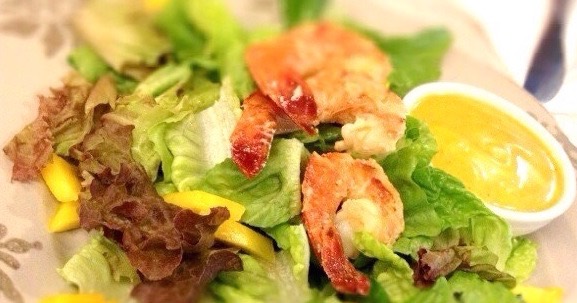 INGREDIENTS
1 lime, halved
3 glasses of rosé wine
1 small onion, sliced
1 tbs. grated ginger
330 mL bottle of LA TROP BLANCHE,
2 lbs. small shrimp, cooked
1 mango, peeled and diced
1/4 cup rice vinegar
2 tbs. lime juice
1 tbs. chopped cilantro
1 jalapeno, diced
2 Hass avocados, sliced
salt & pepper to taste
Inspiration:
Alissa from Cooking with Surly is creating innovative recipes with craft beer. For those of you who haven't heard of her or the website, she writes recipes featuring beers from Surly Brewing Co. based in Minnesota. 
Directions
Squeeze the lime halves into a large saucepan and add them into the pan.
Add the rosé wine, onion, ginger, and beer; bring to a boil.
Cover and simmer for 8-10 minutes.
Add the shrimp and cook for 3 minutes, until just warm.
Drain the liquid and refrigerate the shrimp and onion until chilled.
In a blender, combine 1/3 cup of the diced mango with vinegar and lime juice.
With the blender on, add the oil and blend until very smooth.
Add the cilantro and jalapeno and pulse to combine.
Transfer the dressing to a large bowl.
Add the shrimp, onion, and remaining mango; toss to combine. Season with salt and pepper.
Mound the shrimp salad on top of the avocado slices and garnish with lime wedges.
It's a great idea as a dinner at home or in your favorite restaurant. It looks also pretty as a dish to bring to a party!
You can even try this original recipe with LA TROP ROSEE or with any other beer with a hint of ginger, which is great in this recipe.